BCWLE is proud to be the recipient of a generous grant from the Motorola Solutions Foundation, which will enable us to launch our new scholarship fund and in-school presentation series.
Program Overview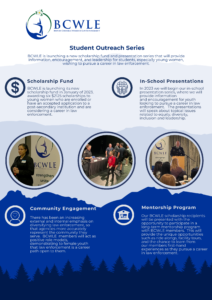 Scholarship Applications
Scholarship applications will open January 15th, 2023 and will be accepted until April 30th, 2023.
How To Apply
Please complete the online application form. Then send the following required documents to scholarships@bcwle.ca by April 30th, 2023.
Required documents:
Cover letter (detail your financial need, if applicable)
Resume
Three professional volunteer references including contact information
1000 word essay answering the question "Why are you the best candidate to receive this scholarship?"
Proof of enrollment in a full-time academic post-secondary program
Copy of most recent transcript (Unofficial for application. Official certified copies required for grant award.)
Copy of Canadian citizenship or permanent residency documentation
Copy of photo ID including address
If you have any questions, please contact scholarships@bcwle.ca.